♥ミ ⇒ Gifts to

Sungmin

:
※
<Château Camensac
1986
- Haut-Médoc, 5ème Grand Cru Classé> Wine Bottles
※
Musician's Dice
※
<Jeffrey David> Sterling Silver Pick Acoustic Guitar Pendant
※
<Marc Jacobs> Slim Fit Crewneck T-Shirt
※
<SCOPY> Crewneck Tee
※
<Andy Warhol's> Cap
※
Mat for Hyaku
※
Special Project: Jar filled with Stars from SJ-World members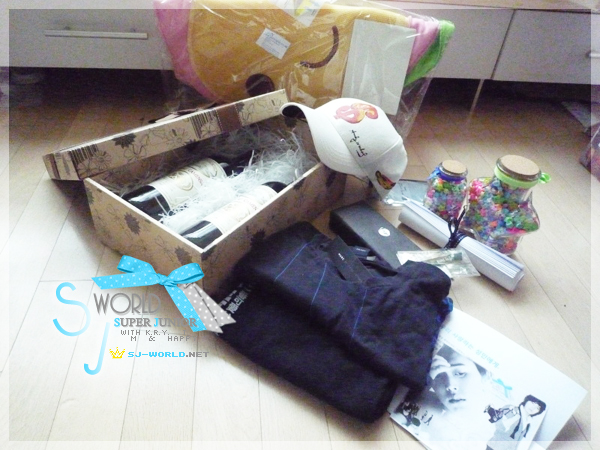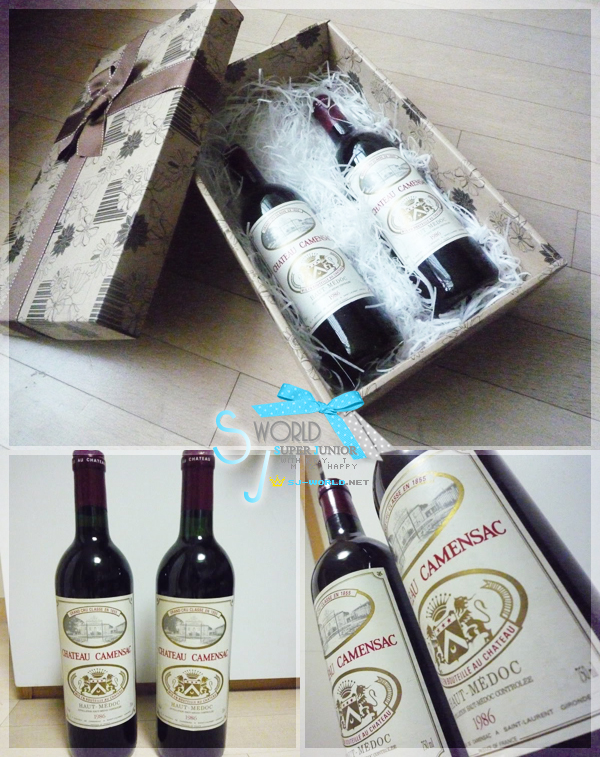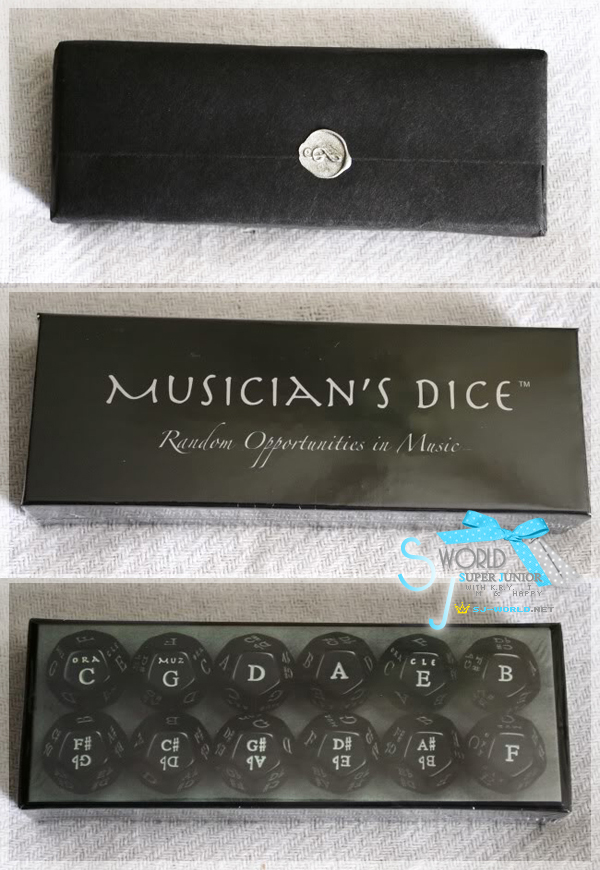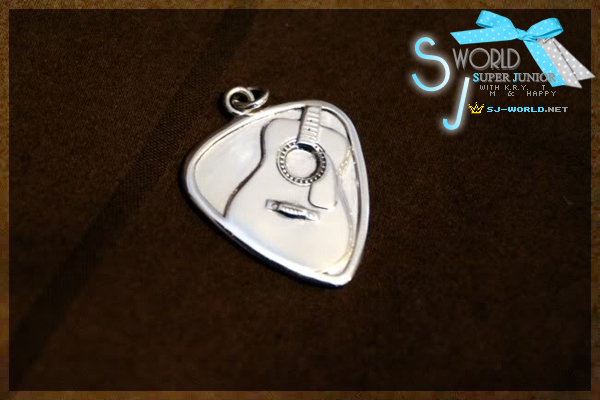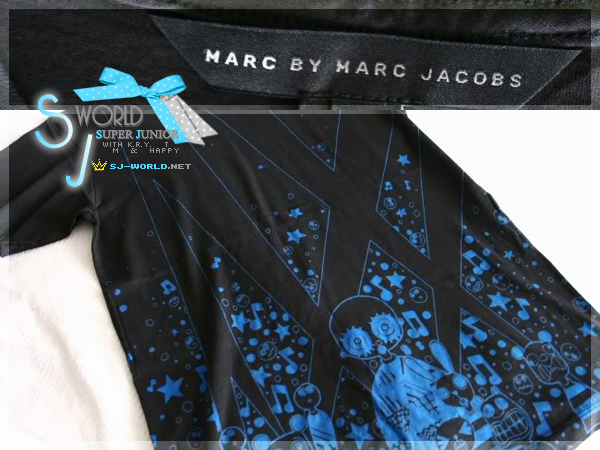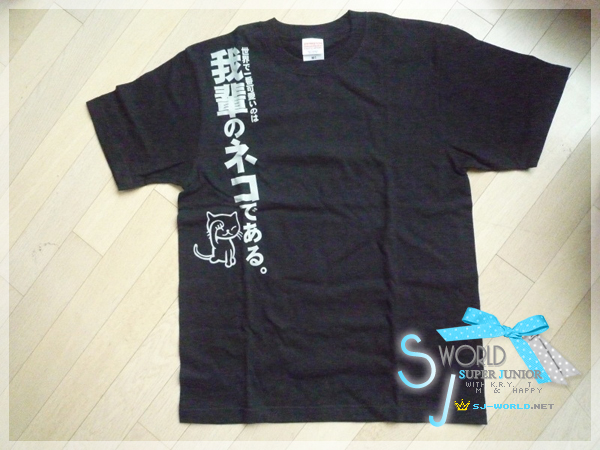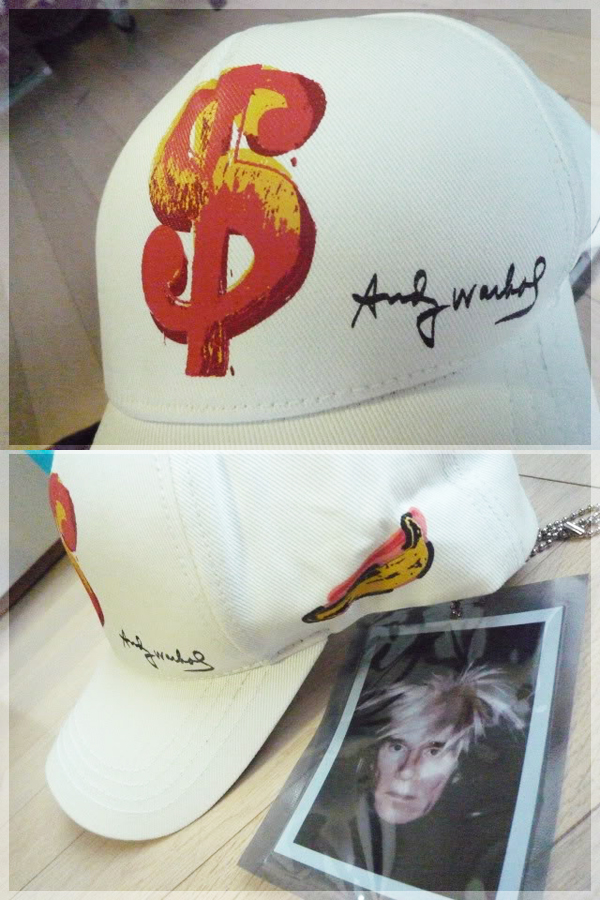 The cap changed from the Adidas one to an Andy Warhol's Edition
due to a misunderstanding with staff members.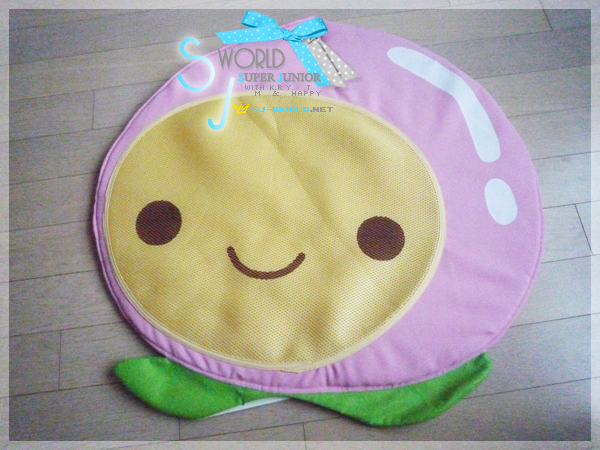 Finally, we got a new mat for Hyaku! We originally ordered a customized blanket,
but it seems to have got lost in delivery :( so we replaced it with a cuter one.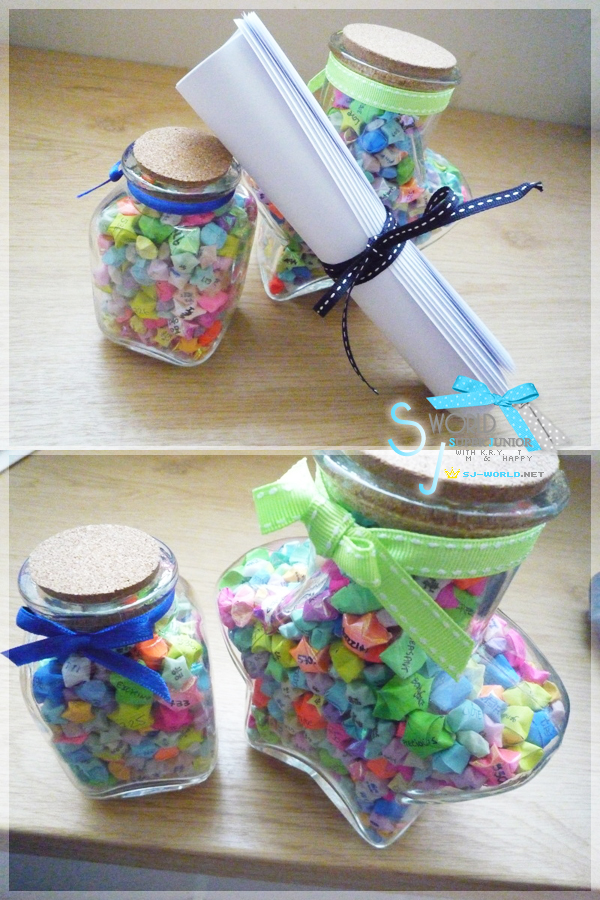 Total number of participants: 1000
They are all listed here!

Letter to Sungmin;
Quote
http://i50.tinypic.com/20ppt2c.png
To our dearest Sungmin.
____
First of all, we'd like to wish you a very happy birthday! We hope your birthday has been a great one and you got to celebrate this special day with people whom you love.
Just a brief recap on who we are, since you've probably seen us around before. We are SJ-WORLD.NET, an international fan forum for Super Junior dedicated to bringing together fans of Super Junior from all over the world, who love and support the group and all its sub-units. So far, we have at least 24,000 E.L.F. and we are growing every day.
It's the new year, and the past year has been a successful one in many ways for your career, hasn't it? We've been through a lot and hope that everything will turn out for the better. We would like to congratulate you, and Super Junior, on the awards that you have won, including the recent Daesang and Bonsang at the Golden Disk Awards. They are well-deserved recognitions for the beautiful talents that all of you have and we are all very happy and proud of you. Besides the success of Super Junior's third album, we were also excited to see you participate in 'Oppa Band' as well as 'Akilla', we feel nothing but pride for your wonderful debut in a musical. We hope 'Hong Gil Dong' will be an enjoyable and fruitful experience for you. With all your achievements last year, we hope that the new year will bring about even more opportunities for you to grow and shine.
For your birthday, we have bought a collection of gifts for you, keeping in mind your personality and your preferences. Our main gift for you is two bottles of wine (bottled in
1986
!), knowing your fondness for it. Other gifts we have for you include a set of Musician's dices, a guitar pick pendant, and two shirts! We hope that you will enjoy using these gifts. ♥
The last gift is a special fan project which our members from all over the world, in more than 100 countries, have participated in to show their love and to give you lots of good luck for the new year. We have folded 1000 origami stars and on every star is a word that has been picked to describe what the member feels about you or thinks of when you come to mind. It may be a litttle difficult for you to look through all 1000 stars, so we have included a list of usernames followed by the words that the members have chosen. We hope the words, though short, will be able to express our love and appreciation for you and that the origami stars, which represent the well wishes we have for you, will remind you that E.L.F. will be always by your side in the new year and for many years after.
Once again, happy birthday, Sungmin! E.L.F. all over the world are wishing you the best of luck in whatever you do, and may you have a happy year ahead! Our lucky 7th member Sungmin, fighting!
With Love,
SJ-WORLD.NET
♥ミ ⇒ Thanks to
※ Letter written by:
★planecrash-
※ Letter edited by:
Gaia
※ Graphics by:
Gaia
※ Stars made by:
♬thea, 16candl3s, ☆jade, --dreamx, `Magic☆Dragon, Euodsie, iyaface★, Dragoncal, Feyana, yurim_sj♥, Anna★미소
※ Origami organization:
♬thea
※ Donations towards Sungmin's

AND/OR

Kangin's Birthday Projects:

(if your name isn't listed, please send me a PM. Since all funds go to the same account, the following names were conveniently listed together, but considered separately when spent for the projects ♥)
ゞkangpair。, 굶엔젤, 영원히'★'MiRACLE, ..angelsj.., achel, Artemis, aznbabeii, callinginsane, citrusmochi, CPDee, de3de3, dianareizelle, done, doraezzz, duffje, emire records, Fra~, Glass-Dahl, heronumbazero, icanhasdinos, ishtar71, ivy_snowe, karinska, kkm23, kpopmanseh, liatgw, Lothy, lovelyAichan, lucy_ng, Lynn92, madlightning, marielle2000, milknsky, Minna, momoyun, nadanera, one_love, Ormalin, RC27, rikaaaa, Ryuuichi, Sessasha, sheepysue, SuLI, Susan:Yang, txtxt☂, vintersaga, weiquan1, Wolke, xwindyx, xxkae, yunanina, yuriloves, Zatty199, zoey
※ Projects Delivery:
`Magic☆Dragon, zitrium
※ Whole Projects Supervision:
Gaia, ♬thea, `Magic☆Dragon
If we forgot anyone, we're very sorry; please tell us your name, so that we can add you!
Thank you to all of you for making these projects successful ♥ and for giving Sungmin so much love.
Also, a big thank you to all of the staff members who helped out, you're amazing and precious.
※ Delivery ⇒
Delivered at Babtol (Yesung's parents restaurant) on February 17, 2010.
Note:
Some of Ryeowook's CDs from his project (as much as the bags could contain without breaking) were given along with the presents, and a note about it added to both letters.